A Few Things with City Candle Company
Today is the day we release what I believe to be the best small batch we've created yet - AMEN. This candle typifies everything Spring.  Flowers, Blossoms, Easter, Rebirth, and Growth.  I came up with the idea for Amen while watching golf (shocker, I know).  As many of you know, I'm a golf nut.  It's in my blood.  My dad has passed a love of the game down to me and I hope to do the same to my children.  Every April, a certain, prestigious golf tournament takes place in Augusta, GA.  The most famous corner of that golf course is tucked...
---
Today has been a long time in the making.  We officially launched the seminal candle that really started the idea that has blossomed into City Candle Company.  I've always been fascinated with smells and their ability to conjure nostalgia.  Pinewood Avenue is the embodiment of that very concept.  When I first came up with the idea of City Candle Company, Pinewood Avenue was the scent I most wanted to create and put out into the world.  Its the scent I've labored over the most, going through many different iterations and formulas before landing on what I believe is the perfect...
---
Its hard to believe its already March.  Today is Fat Tuesday and we released our March Small Batch - Bon Temps.  This is a really incredible candle and I'm really excited about it.  Its a departure from our normal floral/earthy/clean fragrances. Bon Temps is sweet, its indulgent, its a real treat.  Everything one thinks of when they think of King Cake and Mardi Gras.  Head to the site to get yours today! What I'm reading - The First World War by John Keegan.  Of all the wars in America's history, WW1 is the one I know the least about (Vietnam being a close second).  I probably...
---
Its been a few weeks since my last blog post.  In that time, we've been incredibly busy.  Let's see - we had Christmas with our kids and family, we celebrated New Years, and started then New Year in earnest.  Oh yeah, then we had another kid!  We welcomed Esther into the family on January 6th.  She's adored by her big brother and big sister.  Needless to say, we've had our hands full the last few weeks. To celebrate Esther's arrival, we are offering 20% off (our biggest ever discount) on all sizes of CLOTHO, the January Small Batch.  NO CODE...
---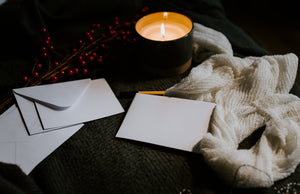 Christmas time is here. We're officially one week away from Christmas Eve and the City Candle shop is buzzing.  We're getting orders out to everyone (shipped or local pickup!), and we're working on a few upcoming releases - keep an eye out!  Our January Small Batch will be released January 1st and we hope you all like it as much as you did the December Small Batch, Bûche de Noël, which sold out in all sizes in just 12 days!  Amazing!  In addition to the January release, we're earnestly testing Spring 2022 releases and I'm certain those will be a hit. ...