A Few Things with City Candle Company
Today we released two new Summer seasonals - Nectar and Gulf.  I'm super excited about both of these candles and hope you all enjoy them as much as I do.  Nectar is meant to be a nostalgic play on the honeysuckles you and I and everyone picked right off the bush when we were kids.  Smells just like it.  Gulf is intended to conjure memories of family beach vacations to Lower AL and the Florida panhandle.  The musky sea salt mixes with clean linen to provide a timeless fragrance.  Jump right in! Before we get into "a few things", I wanted to...
---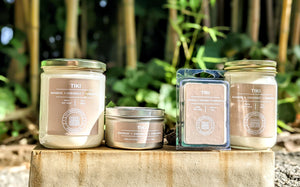 Today we release our June Small Batch - TIKI...This is the perfect kickoff for the summer season!  This unique offering is filled with tropical and beach-y scents - bamboo, coconut, pineapple, and much more.  This is the ideal candle to light up late in the evening after a full day at the pool.  Its equally at home on the front porch, next to a pitcher full of Mai Tais or Painkillers.  Head to the shop to get yours today. We've also added our May Small Batch, Triple Crown, to the site for you to purchase and enjoy.  We launched this candle...
---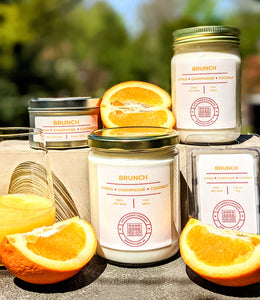 Today we released our two spring seasonal offerings - Brunch and Pocket Full of Posies.  Both are, in my humble opinion, incredible and really help elevate the entire City Candle Co. lineup.  Brunch is a tribute to springtime meals spent with good friends or family.  Filled with citrus, champagne, and coconut, this candle is essentially bottomless mimosas. The sun is shining, drinks are flowing, and conversation abounds.  What more could one ask for?  Pocket Full of Posies is our love song to this time of year.  Complete with scents of rose, lily, and fresh rainwater, this candle promotes serenity and tranquility.  Even if...
---
Today is the day we release what I believe to be the best small batch we've created yet - AMEN. This candle typifies everything Spring.  Flowers, Blossoms, Easter, Rebirth, and Growth.  I came up with the idea for Amen while watching golf (shocker, I know).  As many of you know, I'm a golf nut.  It's in my blood.  My dad has passed a love of the game down to me and I hope to do the same to my children.  Every April, a certain, prestigious golf tournament takes place in Augusta, GA.  The most famous corner of that golf course is tucked...
---
Today has been a long time in the making.  We officially launched the seminal candle that really started the idea that has blossomed into City Candle Company.  I've always been fascinated with smells and their ability to conjure nostalgia.  Pinewood Avenue is the embodiment of that very concept.  When I first came up with the idea of City Candle Company, Pinewood Avenue was the scent I most wanted to create and put out into the world.  Its the scent I've labored over the most, going through many different iterations and formulas before landing on what I believe is the perfect...